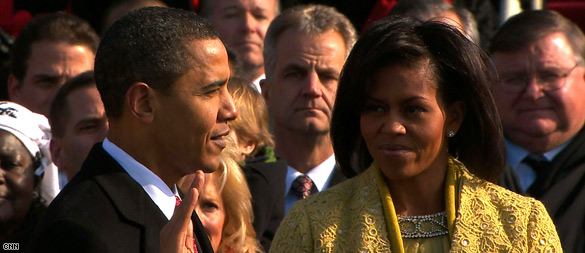 Who would want to miss history as it unfolded today, January 20, when the first African-American is sworn in as President of the United States?  Certainly not I.  I watched with anticipation and the world waited for Obama to come out like a bride getting married!  We all anticipated what Obama would say to the country and the world.
It was a speech that was filled with mellifluous words and imagery, but grounded on the realities of present society.  It was grounded on the need to act on the present crisis and security threats.  I let the Obama's inaugural speech speak for itself, and this shall be one measure by which we see if we meets the world's expectations or not.  But more than anything else, we realize that after the fanfare, the need to walk the talk.  Obama knows for sure that he cannot disappoint, and that he does not have much of a honeymoon period with Americans as well as the rest of the world.
Of course, while the world puts all its hopes on Obama, I could not help but think of our country and its many disappointments.  As Obama takes office today, I realize that today is exactly eight years since Edsa 2, when we saw Gloria Macapagal Arroyo ascend the presidency, ousting Joseph Estrada.
We placed so much hope on the promises of a new administration, and hoped that we would see the dawn of "new politics".  Of course, the country has been disappointed with the present leadership and the continued corruption in our very own country.
I suddenly wonder if Obama had the Philippines in mind when he spoke of corrupt leaders:
"To those who cling to power through corruption and deceit and the silencing of dissent, know that you are on the wrong side of history…"
Well, it's time to work. For us Filipinos, it's to learn from the lessons of this historic event.  May we again be reminded of the value of a peaceful, truly democratic, and credible transition of power.  May our leaders take heart of what true leadership is.  May we citizens be more determined to take part in securing peace and stability in our country.